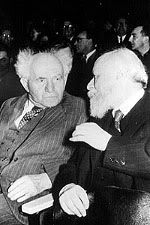 The fellow on the right is the theologian Martin Buber. The fellow on the left can't believe what he's hearing.
I was reading through Donna Steichen's book
Ungodly Rage
the other day
,
and I came across an inciteful passage. She captures well the arrogance of those who wish to supplant from within the teaching office of the Church in most denominations of the Christian West. It is unfortunate when a rebellious few give theology a bad name by turning a religious vocation into a political culture.
She writes: "Theologians supporting such [unorthodox] views have institutionalized the liberal consciousness in Catholic academia. In the words of renowned Jesuit theologian Richard McCormick, they see themselves as a 'second magesterium', which ought to be the intellectual guide for the first. They regard credal Catholicism as 'fundamentalist folk religion.' Their scholarship , like that of nineteenth-century modernism, and the 'demythologizing' Protestant historical scriptural criticism from which it follows, consists mostly of deconstruction. In place of supernatural truth it offers humanitarianism and liberal political prescriptions" (p. 120).
I would respectfully suggest that deconstruction ought not be the vocation of Christian theology.
Consider instead St. Paul, "And he gave some to be apostles, some prophets, some evangelists, some pastors and teachers, to equip the saints for the work of ministry, for building up the body of Christ, until we all attain to the unity of the faith and of the knowledge of the Son of God, to mature manhood, to the measure of the stature of the fullness of Christ, so that we may no longer be children, tossed to and fro by the waves and carried about by every wind of doctrine, by human cunning, by craftiness in deceitful schemes. Rather, speaking the truth in love, we are to grow up in every way into him who is the head, into Christ, from whom the whole body, joined and held together by every joint with which it is equipped, when each part is working properly, makes the body grow so that it builds itself up in love" (Ephesians 4:11-16).