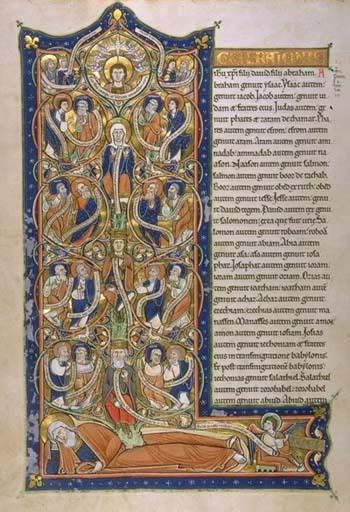 Latin translation of

O Radix Jesse
O Root of Jesse, standing as an ensign among the peoples; before you kings will shut their mouths, to you the nations will make their prayer: Come and deliver us, and delay no longer.
Advent Carol
O come, O come, thou Branch of Jesse's tree, free them from Satan's tyranny, that trust thy mighty power to save, and give them victory o'er the grave.
Rejoice, rejoice. Emmanuel shall come to thee, O Israel.
The antiphon for December 19th is based on the lineage of Jesus as the Messiah from the house of David. Isaiah prophesied: "A shoot will come up from the stump of Jesse; from his roots a Branch will bear fruit." And, "In that day the Root of Jesse will stand as a banner for all peoples." (Isaiah 11:1, 11).
David's father is Jesse, so the shoot (the new budding branch) is David's progeny. This ancestry of Jesus, the "Son of David" is recorded at the beginning of Matthew's gospel and in Luke 3.
A Jesse Tree in the home, then an Advent custom of using a collection of symbols that portray the fact that Jesus has come, as predicted, from the root of Jesse. A small tree or branch is decorated with these ornaments representing Adam, Noah, Abraham, and so on. It also reminds us God had promised Adam and Eve that their descendant would crush the head of the serpent who led to their fall.
Jesus was also born in Bethlehem, David's home town, as the Prophet Micah foretold, "Out of you (Bethlehem) will come one who will be ruler over Israel, whose origins are from of old, from ancient times." (Micah 5:2). The name David means "beloved" and St. John tells us that God so loved the world that he gave us his Son Jesus, whom the Father calls "the beloved" at his baptism.
What urgency there is this antiphon! Something that lies below the earth (a root) stands high like a banner! What is a little root during Advent becomes by Lent the Tree of salvation. The Prophet Isaiah tells us that the kingdom of David would be destroyed, but a root would remain. It is the root of Jesse's tree leading to Christ. And the Prophet Micah reassures us it would spring up again in Bethlehem, the city of David.
After reminding us of Jesus' Davidic heritage, the next day's antiphon refers to Christ as David's key. See
this page
from Fisheaters for information about the custom of making a Jesse tree during Advent.