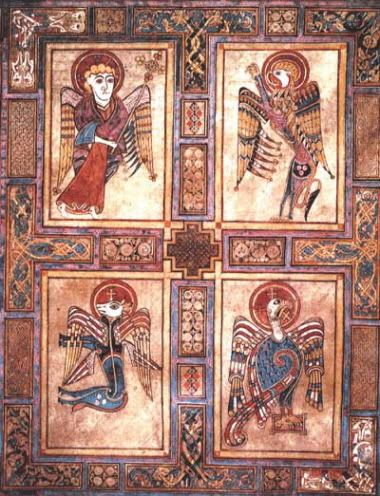 Before the New Testament was written, the early Church looked at the Scriptures and found an abundant witness of Christ. Here are four vivid prophetic accounts of the Passion of Christ from the pages of the Old Testament, written centuries before the events they foreshadowed actually happened. They are what I like to call the Old Testament Gospels.
The Gospel according to Moses
[Genesis 22:1-14]
After these things God tested Abraham and said to him, "Abraham!" And he said, "Here am I." He said, "Take your son, your only son Isaac, whom you love, and go to the land of Moriah, and offer him there as a burnt offering on one of the mountains of which I shall tell you." So Abraham rose early in the morning, saddled his donkey, and took two of his young men with him, and his son Isaac. And he cut the wood for the burnt offering and arose and went to the place of which God had told him. On the third day Abraham lifted up his eyes and saw the place from afar. Then Abraham said to his young men, "Stay here with the donkey; I and the boy will go over there and worship and come again to you." And Abraham took the wood of the burnt offering and laid it on Isaac his son. And he took in his hand the fire and the knife. So they went both of them together. And Isaac said to his father Abraham, "My father!" And he said, "Here am I, my son." He said, "Behold, the fire and the wood, but where is the lamb for a burnt offering?" Abraham said, "God will provide for himself the lamb for a burnt offering, my son." So they went both of them together. When they came to the place of which God had told him, Abraham built the altar there and laid the wood in order and bound Isaac his son and laid him on the altar, on top of the wood. Then Abraham reached out his hand and took the knife to slaughter his son. But the angel of the LORD called to him from heaven and said, "Abraham, Abraham!" And he said, "Here am I." He said, "Do not lay your hand on the boy or do anything to him, for now I know that you fear God, seeing you have not withheld your son, your only son, from me." And Abraham lifted up his eyes and looked, and behold, behind him was a ram, caught in a thicket by his horns. And Abraham went and took the ram and offered it up as a burnt offering instead of his son. So Abraham called the name of that place, "The LORD will provide"; as it is said to this day, "On the mount of the LORD it shall be provided."
The Gospel according to David
Psalm 22:1-19
My God, my God, why have you forsaken me? Why are you so far from saving me, from the words of my groaning? O my God, I cry by day, but you do not answer, and by night, but I find no rest. Yet you are holy, enthroned on the praises of Israel. In you our fathers trusted; they trusted, and you delivered them. To you they cried and were rescued; in you they trusted and were not put to shame. But I am a worm and not a man, scorned by mankind and despised by the people. All who see me mock me; they make mouths at me; they wag their heads; 8"He trusts in the LORD; let him deliver him; let him rescue him, for he delights in him!" Yet you are he who took me from the womb; you made me trust you at my mother's breasts. On you was I cast from my birth, and from my mother's womb you have been my God. Be not far from me, for trouble is near, and there is none to help. Many bulls encompass me; strong bulls of Bashan surround me; they open wide their mouths at me, like a ravening and roaring lion. I am poured out like water, and all my bones are out of joint; my heart is like wax; it is melted within my breast; my strength is dried up like a potsherd, and my tongue sticks to my jaws; you lay me in the dust of death. For dogs encompass me; a company of evildoers encircles me; they have pierced my hands and feet--I can count all my bones--they stare and gloat over me; they divide my garments among them, and for my clothing they cast lots.
The Gospel according to Solomon
[Wisdom 2:12-22]
"Let us lie in wait for the righteous man, because he is inconvenient to us and opposes our actions; he reproaches us for sins against the law, and accuses us of sins against our training. He professes to have knowledge of God, and calls himself a child of the Lord. He became to us a reproof of our thoughts; the very sight of him is a burden to us, because his manner of life is unlike that of others, and his ways are strange. We are considered by him as something base, and he avoids our ways as unclean; he calls the last end of the righteous happy, and boasts that God is his father. Let us see if his words are true, and let us test what will happen at the end of his life; for if the righteous man is God's son, he will help him, and will deliver him from the hand of his adversaries. Let us test him with insult and torture, that we may find out how gentle he is, and make trial of his forbearance. Let us condemn him to a shameful death, for, according to what he says, he will be protected." Thus they reasoned, but they were led astray, for their wickedness blinded them, and they did not know the secret purposes of God.
The Gospel according to Isaiah
[Isaiah 53:3-6,9-12]
He was despised and rejected by men; a man of sorrows, and acquainted with grief; and as one from whom men hide their faces he was despised, and we esteemed him not. Surely he has borne our griefs and carried our sorrows; yet we esteemed him stricken, smitten by God, and afflicted. But he was wounded for our transgressions, he was bruised for our iniquities; upon him was the chastisement that made us whole, and with his stripes we are healed. All we like sheep have gone astray; we have turned every one to his own way; and the LORD has laid on him the iniquity of us all. . . And they made his grave with the wicked and with a rich man in his death, although he had done no violence, and there was no deceit in his mouth. Yet it was the will of the LORD to bruise him; he has put him to grief; when he makes himself an offering for sin, he shall see his offspring, he shall prolong his days; the will of the LORD shall prosper in his hand; he shall see the fruit of the travail of his soul and be satisfied; by his knowledge shall the righteous one, my servant, make many to be accounted righteous; and he shall bear their iniquities. Therefore I will divide him a portion with the great, and he shall divide the spoil with the strong; because he poured out his soul to death, and was numbered with the transgressors; yet he bore the sin of many, and made intercession for the transgressors.