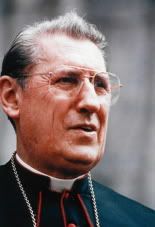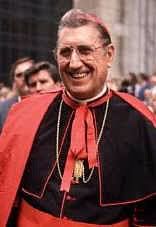 Seeing the pebbles, though, I couldn't help but ask, "Who are these from?" And I should've known when my guide replied, "Ed Koch--all of them." The Jewish Democrat who served three terms as mayor of New York shared a close bond with the cardinal; they shared breakfast every month and Koch was a front-row mainstay of O'Connor's Midnight Masses on Christmas, where the celebrant always welcomed him by name from the pulpit, even long after Hizzoner left office.
Of course, that's not to say they saw eye to eye on everything, but O'Connor realized instinctively that there's a time when the rough-and-tumble of politics can and should be left aside so a place for what St Thomas called "the love that is friendship" can flourish. Koch's multiple trips to the crypt, evidenced by the Jewish custom of placing a stone at a loved one's tomb, were a powerful reminder that said love is stronger than death, not to mention bigger than politic.
I knelt there for a long, silent moment, to convey my thanks, my love, and to ask the Big Man's prayers from the Heavenly Powerhouse. Putting my head to the stone, I whispered the words of tribute which always meant the most to him--and the essence of what he was for so many--"Thanks for being a good priest."
What a wonderful thing when both a life and the remembrance of it are sublime. I commend to your reading Rocco Palmo's moving tribute to the late John Cardinal O'Connor, sometime Archbishop of New York, on his excellent blog Whispers in the Loggia. You can ready the whole thing
here
.