As you may be aware, as a part of his US trip, former Iranian president Mohammad Khatami will be speaking tonight at National Cathedral on the topic of the role the three Abrahamic faiths--Judaism, Christianity, and Islam--can play in shaping peace throughout the world. He served as Iran's president from 1997 to 2005 and was the first reformist president following the 1979 Islamic Revolution. Elected with the broad support of women and young adults, Khatami is credited with the promotion of the rule of law, democracy, and the inclusion of all Iranians in the political decision-making process. In a
press release
, Dean Samuel Lloyd commended President Khatami as a man of peace and moderation. "[His] commitment to a dialogue between civilizations and cultures is an important component in the peace process. This is much needed in the world today."
His visit is not without protest. Some Episcopal bishops have issued a
statement
of protest. There will be a picketers at the entrance to the cathedral grounds to be sure, as well as a press conference this morning which will include torture victims of the Islamic regime, former political prisoners, and opposition figures. The panel at the National Press Club will publicize crimes of the regime that occurred during Khatami's presidency as well as the time that he was a cabinet member of Rafsanjani as the minister of Islamic guidance.
Some are cringing at the thought of
what he might say
(and where he would be saying it).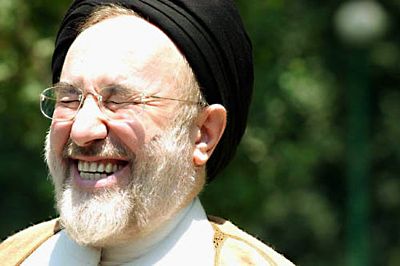 I have a brief outline of
the speech that I think he should make
:
1. Three faiths have sprung from the family of Abraham--Judaism, Christianity, and Islam--each of which have a right to exist and continue in peace.
2. I retract statements that I have made in the past calling for a confrontation with the Zionist regime, and I call upon others to do the same.
3. Israel has a right to exist as a homeland for the Jewish people. The Jewish people should not be exterminated. My successor must retract his calls for a new Holocost.
4. I call for an immediate end to all abuses of human rights in Iran and other states.
5. Let the three faiths that have sprung from Abraham's family work together to create a dialogue of civilizations rather than a clash of civilizations.