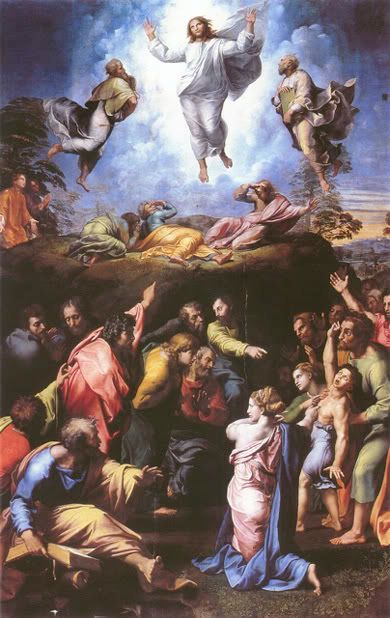 Today is the feast of the Transfiguration of Jesus. From Peter's comment about offering to build booths for Moses and Elijah, we can reasonably conclude that this is taking place during the feast of
Succoth
("Booths" or "Tabernacles"). What is revealed on the mount of transfiguration is the glory of God shining radiantly in the human person of Jesus Christ. Divinity tabernacling in the midst of humanity--this is the light of Tabor.
As the Hebrews departed from Sinai on their way to the promised land, the Lord guided their path through the manifestation of his glory in a pillar of cloud by day and a pillar of fire by night. When we turn to the New Testament, John's gospel begins with the assertion that the eternal Word of God became flesh in Jesus Christ and dwelt among us. The eternal Light pitched his tent among us as a human being. Jesus is our Light for the journey, showing the way through the dark wilderness on our pilgrimage to the land of promise. The glimpses of his glory that we are blessed with in this life sustain us along the way.
Collect for the Transfiguration
O God, who on the holy mount didst reveal to chosen witnesses thy well-beloved Son, wonderfully transfigured, in raiment white and glistening: Mercifully grant that we, being delivered from the disquietude of this world, may by faith behold the King in his beauty; who with thee, O Father, and thee, O Holy Ghost, liveth and reigneth, one God, world without end.
Amen.