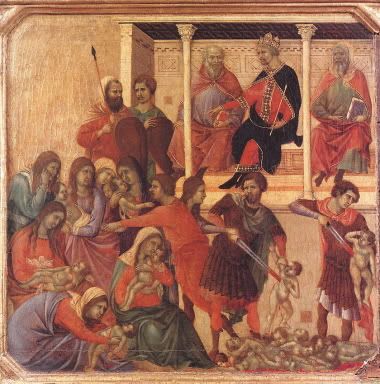 Today is Childermas, the commemoration of the innocent male children of Bethlehem who were slaughtered in Herod's attempt to prevent the Magi's words about this newborn "King of Israel" from coming true. The story is recorded in
Matthew 2:7-18
.
The popular Coventry carol is essentially a lullaby to those children who now rest in Christ as the first martyrs.
Burden: Lully, lullay, thou little tiny child, bye-bye, lully, lullay.

1. O sisters too, how may we do for to preserve this day this poor youngling for whom we sing bye-bye, lully lullay? Burden.
2. Herod the King, in his raging charged he hath this day his men of might, in his own sight, all young children to slay. Burden.
3. That woe is me, poor child for thee! And every morn and day, for thy parting nor say nor sing bye-bye, lully lullay. Burden.
It is also a time for remembring all innocent victims, especially those least able to protect themselves--unborn children, the elderly, the infirm, and all others in danger of being euthanized. I commend the article from the
National Organization of Episcopalians for Life
called "
The Pro-Life Argument of Rowan Williams
" (the current Archbishop of Canterbury) by Victor Lee Austin. I also recommend their list of "
101 Pro-Life Things You Can Do
."
From another site, I suggest the information sheet on
Abortion and the Early Church
.
Let us pray.
We remember this day, O God, the slaughter of the holy innocents of Bethlehem by the order of King Herod. Receive, we beseech thee, into the arms of thy mercy all innocent victims; and by thy great might frustrate the designs of evil tyrants and establish thy rule of justice, love, and peace; through Jesus Christ our Lord, who liveth and reigneth with thee, in the unity of the Holy Spirit, one God, for ever and ever. Amen.