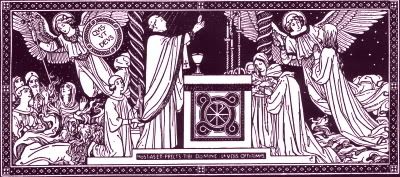 Why do we pray for the dead?

We pray for them, because we still hold them in our love, and because we trust that in God's presence those who have chosen to serve him will grow in his love, until they see him as he is.
(
Book of Common Prayer
, p 862)
2 Maccabees 12:38-46
So Judas having gathered together his army, came into the city Odollam: and when the seventh day came, they purified themselves according to the custom, and kept the sabbath in the same place.
And the day following Judas came with his company, to take away the bodies of them that were slain, and to bury them with their kinsmen, in the sepulchres of their fathers. And they found under the coats of the slain, some of the donaries of the idols of Jamnia, which the law forbiddeth to the Jews: so that all plainly saw, that for this cause they were slain.
Then they all blessed the just judgment of the Lord, who had discovered the things that were hidden. And so betaking themselves to prayers, they besought him, that the sin which had been committed might be forgotten. But the most valiant Judas exhorted the people to keep themselves from sin, forasmuch as they saw before their eyes what had happened, because of the sins of those that were slain. And making a gathering, he sent twelve thousand drachms of silver to Jerusalem for sacrifice to be offered for the sins of the dead, thinking well and religiously concerning the resurrection. (For if he had not hoped that they that were slain should rise again, it would have seemed superfluous and vain to pray for the dead) And because he considered that they who had fallen asleep with godliness, had great grace laid up for them.
It is therefore a holy and wholesome thought to pray for the dead, that they may be loosed from sins.
Prayers from the Burial Office
Remember thy servants, O Lord, according to the favor which thou bearest unto thy people; and grant that, increasing in knowledge and love of thee, they may go from strength to strength in the life of perfect service in thy heavenly kingdom; through Jesus Christ our Lord.
Amen.
Almighty God, Father of mercies and giver of comfort: Deal graciously, we pray thee, with all those who mourn, that casting every care on thee, they may know the consolation of thy love; through Jesus Christ our Lord.
Amen.
O God, whose days are without end, and whose mercies cannot be numbered: Make us, we beseech thee, deeply sensible of the shortness and uncertainty of life; and let thy Holy Spirit lead us in holiness and righteousness all our days; that, when we shall have served thee in our generation, we may be gathered unto our fathers, having the testimony of a good conscience; in the communion of the Catholic Church; in the confidence of a certain faith; in the comfort of a reasonable, religious, and holy hope; in favor with thee our God; and in perfect charity with the world. All which we ask through Jesus Christ our Lord.
Amen.
O Lord Jesus Christ, Son of the living God, we pray thee to set thy passion, cross, and death, between thy judgment and our souls, now and in the hour of our death. Give mercy and grace to the living, pardon and rest to the dead, to thy holy Church peace and concord, and to us sinners everlasting life and glory; who with the Father and the Holy Spirit livest and reignest, one God, now and for ever.
Amen.