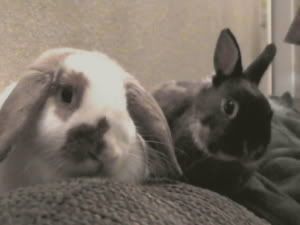 This was one of the first images I put on my blog, back in the spring of 2005. On the left is Ruby and on the right is Tobi.
Ruby passed away not too long after that, and Tobi just died late Sunday night.
Tobi was a very special bunny for Melisa and I, an old friend whom we miss, especially since he was connected to our relationship. He lived a pretty full life for
that breed of rabbit
(and outlived two girlfriends we got for him). We took him home nearly eight years ago in Waco, just after I had started seminary. We joked that he was our first-born son. We named him Tobit after the character in the Bible, and we had the reading from Tobit at our wedding.
He was very mild natured and had a gentle disposition (rabbits CAN be fussy, believe it or not). I know he gave great comfort to Melisa while I was away at school for so long. His presence was always comforting, like he was looking out for us. His moments of play and rambunctiousness were always entertaining. And like life itself, Tobi was simply beautiful.