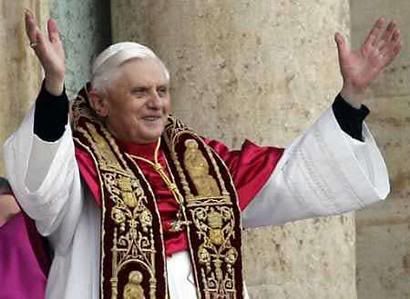 Josef Cardinal Ratzinger of Germany was elected by the College of Cardinals today to be the new Bishop of Rome. He has chosen the name Benedict XVI.
Ratzinger was a liberal theological advisor at the Second Vatican Council whose later experience as a bishop grounded him more in the Church's rich tradition, and moved him toward the center. He is a profound thinker who brings great gifts to the petrine ministry. He is a man of great faith who has also expressed concern for the reform and renewal of the liturgical life. It is interesting in light of my last post that he chose the olivetan name of a peacemaking predecessor, Pope Benedict XV.
As Pope Benedict XVI, his traditonal titles are: "His Holiness the Pope, the Bishop of Rome, the Vicar of Christ, Successor to S. Peter, Prince of the Apostles, Supreme Pontiff (
Pontifex Maximus
), Archbishop and Metropolitan of the Roman Province, Primate of Italy, Patriarch of the West, Soverign of the Vatican City State, Pastor of Pastors (
Pastor Pastorum
), and Servant of the Servants of God (
Servus Servorum Dei
)." As a curious sidenote, there are other titles that have fallen out of use. According to Charles Noonan, one such title is "Rector of the World."
Here is an excerpt from one of his books,
The Meaning of Christian Brotherhood
:
"The local community realizes itself as the Church in the religious assembly, that is, above all in the celebration of the Eucharist. Consequently, Christian brotherhood demands concretely the brotherhood of the individual parish community. This brotherhood has its source and center in the celebration of the eucharistic mysteries. In fact, in the classical theology of the Church, the Eucharist has been seen not so much as the soul's meeting with Christ, but rather as the
concorporatio cum Christo
--as the Christians' becoming one in the one body of the Lord" (p. 68).