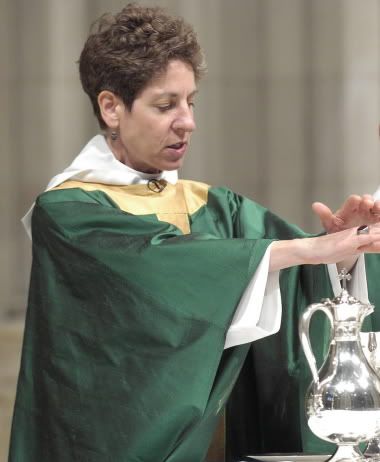 Bp Katharine Jefferts Schori of Nevada, next Presiding Bishop, who took the time to note in her first sermon before the Convention as PB-elect, "Our mother Jesus gives birth to a new creation and we are his children."
Just when things were starting to look a little positive. . . .
This General Convention was expected to give the Episcopal Church's response to the Windsor Report's question of whether it will "choose to walk away" from the Anglican Communion. Both sides have been vocal about clarity on the matter, rather than having some statement meant to appease all. Archbishop William Temple once said,
"The Church must be very clear in its public pronouncements so that she may be very pastoral in her application."
Some of the resolutions (such as
A160
) dealing with the matter were reworded in committee to use Windor's language and to be more direct in expressing our regret and asking for forgiveness for actions taken at the last General Convention. But then on Sunday, we elected a new Presiding Bishop. But not just anyone. By the slimmest possible margin, the House of Bishops elected Bp Katharine Schori of Nevada--the most left-wing candidate possible.
"I'm thrilled,"
said the Rev'd Susan Russell, the president of Integrity (an advocacy group for lesbian, gay, and transgendered Episcopalians) in a statement from the
New York Times
.
Not only is Bishop Schori the most vocal supporter Integrity and of clergy in same-sex relationships and the blessing of same-sex relationships (she has permitted them in her diocese), she is does not exactly have a great track record on a bishop's duty of guarding the apostolic deposit of faith. Word is that she brought in retired Bishop Jack Spong to conduct a clergy conference in 2004 (who is famous for saying things like,
"The theistic idea of God is not only in this day and age unbelievable, it is immoral"
and denounces the doctrine of the atonement as
"divine child abuse."
)
This certainly does not ease international tensions. Added to that is the difficulty that not all of the provinces in the Anglican Communion ackowledge the theological possibility of ordaining women to the episcopate.
"Bp Jack Iker of Fort Worth noted, "The fact that her ordination as a bishop is not recognized or accepted by a large portion of the Communion introduces an additional element of division and impairment."
She will be joining a group of Anglican primates in which she will be considered a bishop by some, but not by others.
The Archbishop of Canterbury noted in the
official statement
from Lambeth Palace:
"Her election will undoubtedly have an impact on the collegial life of the Anglican Primates; and it also brings into focus some continuing issues in several of our ecumenical dialogues."
In contrast, a member of the House of Deputies speaking in favor of the election of Bp Schori stated,
"The Anglican Communion is not ready for it, but we are."

On Monday morning, the unanimous statement from the Fort Worth was read to both houses of Convention:
"The Bishop and the Standing Committee of the Episcopal Diocese of Fort Worth appeal in good faith to the Archbishop of Canterbury, the Primates of the Anglican Communion and the Panel of Reference for immediate alternative Primatial oversight and Pastoral Care following the election of Katharine Jefferts Schori as Presiding Bishop of the Episcopal Church. This action is taken as a cooperative member of the Anglican Communion Network in light of the Windsor Report and its recommendations."
Neither house made any response. In the House of Deputies, Deputy Coyle of the Diocese of Central Florida rose to say that, despite differences of practice, his diocesan deputation wanted to express its support for the Diocese of Fort Worth.
Also of interest, Bp Michael Ingham of New Westminster (Canada), the first Anglican diocese to officially authorized same-sex blessings, was seated with the deputation from Massachusetts as a visitor to the floor of the house and was greeted by a standing ovation when he was introduced.
Resolution A095
, "Gay and Lesbian Affirmation," was adopted by the bishops. It calls for protection and expansion of civil rights (family leave, employee benefits, etc.) for gay and lesbian individuals and same-gender couples, and for "the 75th General Convention oppose any state or federal constitutional amendment that prohibits same-sex civil marriage or civil unions." I suppose that would include the proposed "Federal Marriage Amendment" which is designed to take away the power of courts to redefine marriage and give it back to the people.
Resolution C010
, on site choices for future General Conventions, also passed. It
suggests
(the language was changed from "directs") that the planning committee not propose as a site for any future General Convention any city in a state that "prohibits domestic partnerships" or associated rights. Currently, 43 states have passed marriage amendments, including Texas.
Still to come at the Convention, both Houses will consent to the election of Canon Barry Beisner as Bishop of Northern California. The problem is that he's been twice divorced and is in his third marriage. This is in light of the Windsor Report calling for a moratorium on new bishops whose manner of life represents a challenge to communion. See
Resolution D038
for the interesting minority report about this episcopal election.
Resolution D058
on reaffirming "salvation through Christ alone" will be discharged from committee and will not come up for a vote.
On a lighter note (just kidding),
Resolution C001
("Anti-Jewish Prejudice in Liturgical Texts") passed with a large majority. It provides for the Standing Commission on Liturgy and Music to collect and prepare teaching materials for use in congregations where anti-Semitism develops
as a result of exposure to scriptural or liturgical texts
. So now, we must censor all the "anti-Jewish" (?) elements of the Bible from public exposure and suppress any liturgical texts that pray for salvation for the Jewish people (although I am pretty sure there are none of those left). The commission is to report its progress in 2009.
Is enough enough?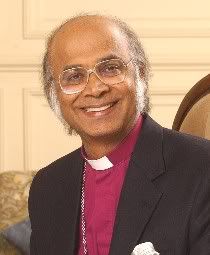 In an outspoken interview with
The Daily Telegraph
, the Bishop of Rochester (UK), the Rt Rev Michael Nazir-Ali, said that divisions between liberals and conservatives were so profound that a compromise was no longer possible. He increased the pressure on the Archbishop of Canterbury, to take firm action against the liberal American leadership. He noted,
"Anglicans are used to fudging things sometimes, but I think this is a matter of such seriousness that fudge won't do."

Bp Nazir-Ali continued:
"Sometimes you have to recognise that there are two irreconcilable positions and you have to choose between them. The right choice is in line with the Bible and the Church's teaching down the ages, not some new-fangled religion we have invented to respond to the 21st century. My fear is that the Church of England has made a number of moves in the liberal, Protestant direction. That gives me concerns that the Bible will become less important and that the Church is moving away from its traditional Catholic order. If you move in that direction you become a kind of options Church, where you live by preferences."
He also said,
"Nobody wants a split, but if you think you have virtually two religions in a single Church something has got to give sometime."
He suggested the point of no return had been passed, and effectively challenged Archbishop Rowan Williams of Canterbury to recognize that fact.