Isn't the internet wonderful? . . . all this information at your fingertips.
Video Links related to GenCon 75
Kendall Harmon--on Windsor resolutions
Kendall Harmon--after PB election
Michael Howell--deputy on A160
David Roseberry--after PB election
Andrew Carey--on the GenCon process
Bp Katharine Schori on CNN
Press Conference for new Presiding Bishop
Andrew Carey--on Abp William's statement
Bp Bob Duncan--on dioceses responding to new PB
Carey and Harmon--on A161 vote
Matt Kennedy and Michael Howe
George Conger and Andrew Carey
Network Press Conf 1--Bp Duncan
Network Press Conf 2--Bp Iker
Network Press Conf 3--Bps Iker and Schofield
Final Interview with Bp Jack Iker
Final Interview with Susan Russell
Final Interview with Kendall Harmon
And just for fun, more videos
Betty Butterfield on those Episcopalians
Jesus comments through a psychic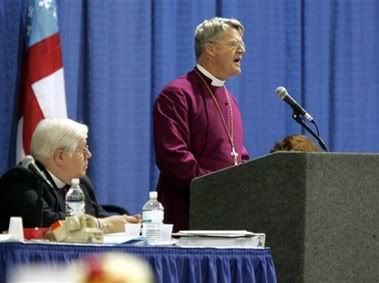 GenCon Resolutions worth watching
Resolutions not marked "passed" or "failed" ended in committee
A095
--Gay and Lesbian Affirmation (passed)
A126
--Covenant for Communion in Mission
A129
--Affirm Creation and Evolution (passed)
A137
--Inclusive Language
A139
--Celebration of Women's Ministries (passed)
A159
--Commitment to Interdependence (passed)
A160
--Expression of Regret (passed)
A161
--Election of Bishops (
failed
)
A162
--Public Rites of Blessing
A163
--Pastoral Care and DEPO (passed)
A164
--Commitment to the Millenium Development Goals
A165
--Commit to Windsor & Listening Process (passed)
A166
--Anglican Covenant Process (passed)
A167
--"Full & Equal Claim" for all Baptized (passed)
A168
--Human Rights for "Homosexual Persons"
A169
--Quadrilateral and Exercise of Ministry
B002
--Response to Global Warming (passed)
B012
--Episcopal Church and the State of Israel
B014
--War in Iraq
B023
--Evangelism-Response to Decline (passed)
B024
--Celebrating Bonn-Vienna Agreement (passed)
B026
--Policy on Affiliation
B031
--Structure for Unity
B032
--Separate and Independent Status (passed)
B033
--On Election of Bishops (passed)
C001
--Anti-Jewish Prejudice in Liturgy (passed)
C004
--Response to Windsor Report
C009
--Importance of Anglican Communion
C010
--General Convention Site Choices
C014
--Response to Windsor Report
C020
--Baptism is Full Initiation
C023
--Anti-Semitism
C025
--Affirmation of Windsor Report
C027
--Reaffirm Membership in Anglican Comm
C032
--Health Care for All Americans
C037
--Affirming the Windsor Report
C038
--WR and the Anglican Communion
C039
--Response to Windsor Report
C040
--Support Biblical Literacy (passed)
C042
--Affirm Windsor Report
C044
--Baptism is Full Initiation
C048
--Religious Coalition Reproductive Choice
C049
--Executive Council and RCRC
D002
--Public Policy on Tobacco
D005
-- Homosexual Criminalization (passed)
D016
--Military Strike on Iran
D017
--Marriage Rite for Same-Sex (
failed
)
D023
--Principles for End-of-Life Decisions
D028
--Close Guantanamo Prison
D029
--Call for Listening and Respect
D032
--Response to Anglican Communion
D038
--Consecration of Canon Beisner (passed)
D044
--Dissassociation from Church in Nigeria
D045
--"Equally Applicable" ordination (passed)
D049
--Separating Church and Civil Marriage
D050
--Pastoral Care and DEPO
D051
--Rites for Same-Sex Blessing
D054
--Rites to Bless Mutuality and Fidelity
D058
--Salvation through Christ Alone
D063
--Membership in RCRC
D064
--Marriage Equality
D066
--Endorse Lambeth Sexuality Resolution
D067
--Married Life of the Ordained
D069
--Supreme Authority of Scripture (passed)
D072
--Substitute for A160
D073
--Assylum for Lesbians and Gays
D084
--Uphold Communion for Baptized (passed)
D094
--Appreciation for PB-Elect (passed)