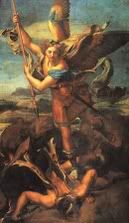 I'll be off to the first Southwest Conference of St. Michael's Conference at Camp Crucis in Granbury, TX this week. Fr. Geromel from the Midwest Conference described it as "Anglo-Catholic boot camp."
I'm teaching two courses: "The Holiness of Beauty," and "Deadly Sins and Heavenly Virtues." I'm looking forward to the experience, but I know it will be exhausting. I ask your prayers for the adult counselors and clergy as well as for the kids who are participating this year. We will all come back different people.
Holy Michael the Archangel, defend us in the day of battle. Be our safeguard against the wickedness and snares of the devil. May God rebuke him, we humbly pray; and do thou, O Prince of the heavenly host, by the power of God, thrust down to hell Satan and all wicked spirits who wander through the world for the ruin of souls. Amen.

O Prince most glorious, Michael the Archangel, keep us in remembrance; here and everywhere, always entreat the Son of God for us.