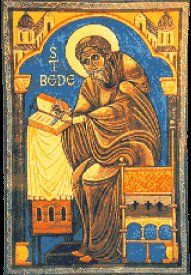 Today is the feast of title for my parish. Tonight at 6:30pm we will have a special Mass in honor of our patron saint, with the second Rector of the parish, Fr Dennis Smart, as our guest preacher. The Venerable Bede, priest-monk of Jarrow, recorded the story of Alban the Martyr in his
Ecclesiastical History of the English People
.
Chapter 7: The martyrdom of Saint Alban and his companions, who shed their life-blood for Christ at this time.
In this country occurred the suffering of Saint Alban, of whom the priest Fortunatus in his Praise of Virgins, in which he mentions all the blessed martyrs who came to God from every part of the world, says: "In fertile Britain's land / Was noble Alban born."

When these unbelieving Emperors were issuing savage edicts against all Christians, Alban, as yet a pagan, gave shelter to a Christian priest fleeing from his pursuers. And when he observed this man's unbroken activity of prayer and vigil, he was suddenly touched by the grace of God and began to follow the priest's example of faith and devotion. Gradually instructed by his teaching of salvation, Alban renounced the darkness of idolatry, and sincerely accepted Christ. But when the priest had lived in his house some days, word came to the ears of the evil ruler that Christ's confessor, whose place of martyrdom had not yet been appointed, lay hidden in Alban's house. Accordingly he gave orders to his soldiers to make a thorough search, and when they arrived at the martyr's house, holy Alban, wearing the priest's long cloak, at once surrendered himself in the place of his guest and teacher, and was led bound before the judge.

When Alban was brought in, the judge happened to be standing before an altar, offering sacrifice to devils. Seeing Alban, he was furious that he had presumed to put himself in such hazard by surrendering himself to the soldiers in place of his guest, and ordered him to be dragged before the idols where he stood. "Since you have chosen to conceal a sacrilegious rebel," he said, "rather than surrender him to my soldiers to pay the well-deserved penalty for his blasphemy against our gods you shall undergo all the tortures due to him if you dare to abandon the practice of our religion." But Saint Alban, who had freely confessed himself a Christian to the enemies of the Faith, was unmoved by these threats, and armed with spiritual strength, openly refused to obey this order. "What is your family and race?" demanded the judge. "How does my family concern you?" replied Alban; ", and carry out Christian rites." "I demand to know your name," insisted the judge, "tell me at once." "My parents named me Alban," he answered, "and I worship and adore the living and true God, who created all things." The judge was very angry, and said: "If you want to enjoy eternal life, sacrifice at once to the great gods." Alban replied: "You are offering these sacrifices to devils, who cannot help their suppliants, nor answer their prayers and vows. On the contrary, whosoever offers sacrifice to idols is doomed to the pains of hell."

Incensed at this reply, the judge ordered God's holy confessor Alban to be flogged by the executioners, declaring that he would shake his constancy of heart by wounds, since words had no effect. But, for Christ's sake, he bore the most horrible torments patiently and even gladly, and when the judge saw that no torture could break him or make him renounce the worship of Christ, he ordered his immediate decapitation. Led out to execution, the saint came to a river which flowed swiftly between the wall of the town and the arena where he was to die. There he saw a great crowd of men and women of all ages and conditions, who were doubtless moved by God's will to attend the death of his blessed confessor and martyr. This crowd had collected in such numbers and so blocked the bridge that he could hardly have crossed that evening, and so many people had come out from the city that the judge was left unattended. Saint Alban, who ardently desired a speedy martyrdom, approached the river, and as he raised his eyes to heaven in prayer, the river ran dry in its bed and left him a way to cross. When among others the appointed executioner himself saw this, he was so moved in spirit that he hurried to meet Alban at the place of execution, and throwing down his drawn sword, fell at his feet, begging that he might be thought worthy to die with the martyr if he could not die in his place.

While this man changed from a persecutor to a companion in the true Faith, and other executioners hesi-tated to pick up his sword from the ground, the most reverend confessor of God ascended a hill about five hundred paces from the arena, accompanied by the crowd. This hill, a lovely spot as befitted the occasion, was clad in a gay mantle of many kinds of flowers. Here was neither cliff nor crag, but a gentle rising slope made smooth by nature, its beauty providing a worthy place to be hallowed by a martyr's blood. As he reached the summit, holy Alban asked God to give him water, and at once a perennial spring bubbled up at his feet—a sign to all present that it was at the martyr's prayer that the river also had dried in its course. For it was not likely that the martyr who had dried up the waters of the river should lack water on a hill-top unless he willed it so. But the river, having performed its due service, gave proof of its obedience, and returned to its natural course. Here, then, the gallant martyr met his death, and received the crown of life which God has promised to those who love him. But the man whose impious hands struck off that pious head was not permitted to boast of his deed, for as the martyr's head fell, the executioner's eyes dropped out on the ground.

The soldier who had been moved by divine intuition to refuse to slay God's confessor was beheaded at the same time as Alban. And although he had not received the purification of Baptism, there was no doubt that he was cleansed by the shedding of his own blood, and rendered fit to enter the kingdom of heaven. Astonished by these many strange miracles, the judge called a halt to the persecution, and whereas he had formerly fought to crush devotion to Christ, he now began to honour the death of his saints.

Saint Alban suffered on the twenty-second day of June near the city of Verulamium, which the English now call Verlamacaestir or Vaeclingacaestir [now called the city of St. Albans—ed.]. Here, when the peace of Christian times was restored, a beautiful church worthy of his martyrdom was built, where sick folk are healed and frequent miracles take place to this day.

In the same persecution suffered Aaron and Julius, citizens of the City of Legions, and many others of both sexes throughout the land. After they had endured many horrible physical tortures, death brought an end to the struggle, and their souls entered the joys of the heavenly City.

Almighty God, by whose grace and power your holy martyr Alban triumphed over suffering and was faithful even to death: Grant us, who now remember him in thanksgiving, to be so faithful in our witness to you in this world, that we may receive with him the crown of life; through Jesus Christ our Lord; who with you and the Holy Spirit lives and reigns, one God, for ever and ever. Amen.