It seems that each holiday, I end up watching movies that revolve around a similar theme. At Thanksgiving, it tends to be disaster movies or spy movies (in which the bad guys are trying to create a disaster). On Independence Day, I think I like fight'n' movies best.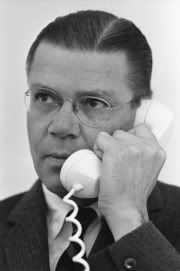 After the fireworks, we started it off with the outstanding documentary about Robert McNamara called
The Fog of War
. After that, we continued the fireworks theme with a documentary about nuclear testing called
Trinity and Beyond
.
Lastly, we watched the movie
Batman Begins
. It was the first time Melisa had seen it, and we both loved it. But this time around, I noticed how much Bruce Wayne (Christian Bale) looks like President Bush. That added a whole new dimension to the story of a young sucessor to a powerful family who goes around the world fighting the bad guys as the caped crusader.