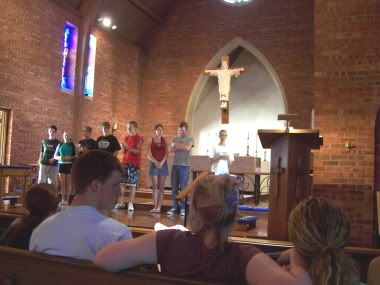 Teens from the Ulster Project planning a farewell worship service at St. Alban's.
The
Ulster Project
was started in 1975 by the Rev'd Kerry Waterstone in order to provide a safe place in America for Northern Irish teenagers to discuss the climate of "
the troubles
" that was facing them at home. Currently, the project brings teens from eleven cities in Northern Ireland, including Belfast, Londonderry/Derry, Omagh, Coleraine, Strabane, Sion Mills, Limavady, Portadown, Castlederg, Enniskillen and Cookstown.
Once selected for the project, the Northern Irish teens meet extensively to form strong bonds with each other before leaving the country. As they will be far from the comforts of home, with only the rest of the teens and two Northern Irish counselors to guide them, the Northern Irish must trust each other implicitly before leaving the country. They begin meeting in January and continue to nurture their friendships until the project starts in July. The teens from Northern Ireland will live with their host families for the month of July, becoming an extra son or daughter in an American family.
In the United States, there are currently 28 cities which host the Northern Irish teenagers, including Arlington, TX. Each city hosts a variable number of teens, from about eight to sixteen. In 2006, 256 Northern Irish teens are visiting the United States and participating in the project. In the Arlington Project, the opening reception for the project was held at St. Alban's school campus and the closing ecumenical worship service (which the participants have planned themselves) will be at St. Alban's Church on Thursday, 27 July at 7:30pm.