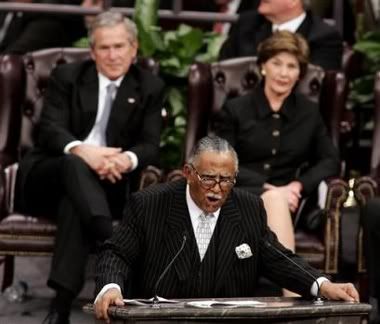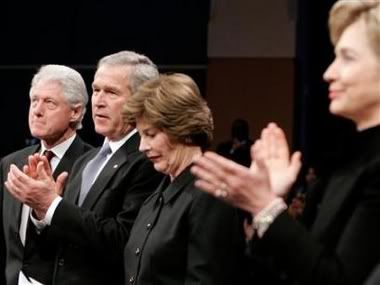 Yesterday, civil rights leader Coretta Scott King was laid to rest. It did not take long for some to attempt to turn a solemn time of remembrance and an act of worship into a political rally.
The Rev'd Joseph Lowery, former head of the Southern Christian Leadership Conference which King helped found in 1957, gave a playful reading of a poem in eulogy of Mrs. King. He said, "She extended Martin's message against poverty, racism and war / She deplored the terror inflicted by our smart bombs on missions way afar / We know now there were no weapons of mass destruction over there / But Coretta knew and we knew that there are weapons of misdirection right down here / Millions without health insurance. Poverty abounds. For war billions more but no more for the poor."
In an unprecedented moment, former President Jimmy Carter took his turn in the eulogy at the funeral to launch another thinly-veiled criticism of the current administration, saying "It was difficult for [the Kings] personally with the civil liberties of both husband and wife violated, and they became the targets of secret government wiretapping and other surveillance."
Thankfully, the funeral did not turn into the outright travesty that was the funeral-turned-political-rally of the late Senator Paul Wellstone. However, it seems that the expectation of "laying down your weapons" for occasions like this has gone by the wayside. The criticisms voiced at the funeral may be legitimate; however, there are times and forums for robust political debate--even for partisan sarcasm and attacks--but a funeral is not it. If I were invited to deliver a eulogy, I would not use the occasion to take jabs at someone else, especially not another speaker at the same funeral. In Anglicanism, we object to outright eulogies because the proclamation of Jesus takes priority over the praise of his servants. Perhaps we now need to go on the record to further state that a funeral is not the right time and place for political attacks. Has civility been laid to rest along with Mrs. King?