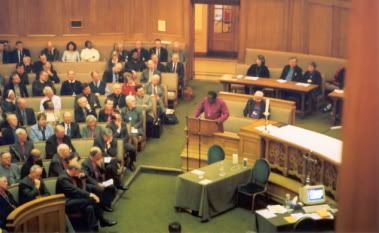 The General Synod of the Church of England is underway. I've enjoyed listening to some of the debate online. The issue getting the most attention this time around is considering the consecration of women to the episcopate. For those who are not aware, unlike the Episcopal Church in the United States, the C of E decided to act in stages because of a lack of widespread agreement--authorizing the ordination of women to only the priesthood in 1992.
One speaker (who was in favor of the measure, but thought it might not be the right time to make the change) made a point that I had not considered. He posed the rhetorical question about the problem of what if a female bishop ordains a male priest and then later on that priest comes to the point that he is not convinced that the ordination of women is God's will. There is no provision for him to be able to continue a priestly ministry in good conscience--by being either reordained or conditionally ordained. It would create a big mess. The speaker was illustrating that the measure has not been thoroughly thought through.
What the speaker did not go on to consider was the same problem on a church-wide scale. What if 50, 200, or 400 years down the road, the Church as a whole comes to the understanding that this innovation is not God's will in this process of "open reception?" Would we have created a bigger mess than can be cleaned up? Or would we simply fail to do the right thing because of being overwhelmed by the scope of the task involved?
With convention/synodical government in control of the Church and her laws, the unfortunate human compulsion to perpetually tinker with the system is fostered and given opportunity, but tinkering may not always a good thing.