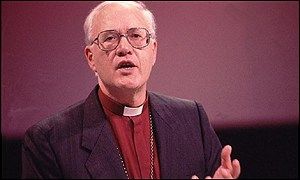 Dr. George Carey, previous Archbishop of Canterbury
Thank you, Lord Carey for telling it like it is. Here is the story from
the Jerusalem Post:
The former archbishop of Canterbury, George Carey, told The Jerusalem Post on Tuesday he was "ashamed to be an Anglican" following Monday's vote by the Church of England to disinvest from companies whose products are used by the Israeli government in the territories. The February 6 divestment vote, which was backed by current Archbishop of Canterbury Rowan Williams, was "a most regrettable and one-sided statement," Lord Carey said, and one that "ignores the trauma of ordinary Jewish people" in Israel subjected to terrorist attacks. Lord Carey joined Jewish leaders protesting the vote by the General Synod, the church's legislature, to adopt a "morally responsible investment in the Palestinian occupied territories and, in particular, to disinvest from companies profiting from the illegal occupation, such as Caterpillar Inc., until they change their policies."
Please read the whole story
here
.
"For thus said the L
ORD
of hosts, after his glory sent me to the nations who plundered you [
i.e.
, Israel], for he who touches you touches the apple of his eye: 'Behold, I will shake my hand over them, and they shall become plunder for those who served them. Then you will know that the L
ORD
of hosts has sent me.'"
Zechariah 2:8-9