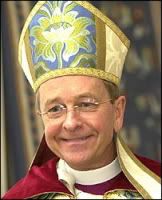 "What's true for shrimp cocktails is true for all cocktails . . .
only in moderation!" --Tony Sinclair
February 13, 2006

Brothers and Sisters in Christ,
I am writing to you from an alcohol treatment center where on February 1, with the encouragement and support of my partner, daughters and colleagues, I checked myself in to deal with my increasing dependence on alcohol.

Over the 28 days I will be here, I will be dealing with the disease of alcoholism-which, for years, I have thought of as a failure of will or discipline on my part, rather than a disease over which my particular body simply has no control, except to stop drinking altogether.

During my first week here, I have learned so much. The extraordinary experience of community here will inform my ministry for years to come. I eagerly look forward to continuing my recovery in your midst. Once again, God is proving His desire and ability to bring an Easter out of Good Friday. Please keep me in your prayers and know that you are in mine.

Your Brother in Christ,
+Gene
With the news of the Bishop of New Hampshire checking in for rehab, my attention has turned to the problem of alcoholism and the church. I admit it's something I hadn't known a whole lot about. I've been paying attention to comments about it on the web. Someone has mentioned that clergy and law are the professions where alcoholism is most prevalent. The Episcopal tradition is one that seems to have a reputation for boozing it up. Unfortunately, we seem to be more content with joking about it than addressing the problem. Sewanee (Robinson's
alma mater
) has a reputation for being a drinking school, and for turning out a great number of "functional alcoholics." It isn't the only institution of higher education where people learn "how to Tanqueray." I was struck by the insight of John Wilkins, who left the following comment on Kendall Harmon's
TitusOneNine
blog:
"I've often wondered how many parishes in the Episcopal church have group dynamics that can be traced to an alcoholic culture."

Despite the spiritual nature of their work, the clergy are not exempt from alcoholism. I'm aware of the drinking problems of Bishop Carolyn Irish (Utah) and the late Bishop James Pike (California). Bishop Mark Hollingsworth (Ohio) was open about it being something he had to battle in the past. I'm sure there other examples among bishops and many more among the priests and deacons. Are people who are aware of the problems in candidates for ordination keeping quiet for them? What can be done to remedy the problem? I have many questions, but not many answers.
Alcoholic bishops seem to be a problem experienced from the beginning. Notice how St Paul is careful to mention it twice in describing the qualifications of a bishop:
"A bishop then must be blameless, the husband of one wife, temperate, sober-minded, of good behavior, hospitable, able to teach; not given to wine, not violent, not greedy for money, but gentle, not quarrelsome, not covetous" 1 Timothy 3:2-3

"For a bishop must be blameless, as a steward of God, not self-willed, not quick-tempered, not given to wine, not violent, not greedy for money, but hospitable, a lover of what is good, sober-minded, just, holy, self-controlled, holding fast the faithful word as he has been taught, that he may be able, by sound doctrine, both to exhort and convict those who contradict it." Titus 1:7-9
In reading Robinson's letter, I'm concerned that he seems resigned to be the victim of a disease, which would just lead him to become a "dry drunk" (i.e., someone who stops consuming alcohol, but still leaves the root emotional and behavioral probems unresolved). I was surprised to read the following from
Wikipedia
about alcoholism as a "disease":
The American Society of Addiction Medicine and the American Medical Association both maintain extensive policy regarding alcoholism. The American Psychiatric Association recognizes the existence of "alcoholism" as the equivalent of alcohol dependence. With the publication of the DSM-III in 1980, two separate syndromes of alcohol dependence and alcohol abuse replaced the earlier category of alcoholism. The World Health Organization dropped the diagnostic category "alcoholism" in 1979, replacing it with the diagnostic categories "alcohol dependence" and "harmful use." The American Hospital Association, the American Public Health Association, the National Association of Social Workers, and the American College of Physicians classify "alcoholism" as a disease.

The causes for alcohol abuse and dependence cannot be easily explained. However, the belief that the roots are from moral or ethical weakness on the part of the sufferer has been largely altered. A 1995 Gallup Poll found that 90% of Americans currently believe that "alcoholism" is a disease. In contrast, in a 1988 U.S. Supreme Court decision on whether alcoholism is a condition for which the U.S. Veterans Administration should provide benefits, Justice Byron R. White agrees with the U.S. District Court that there exists "a substantial body of medical literature that even contests the proposition that alcoholism is a disease, much less that it is a disease for which the victim bears no responsibility."

Whether or not alcoholism is a disease remains a controversial subject. It should be noted that not all participants in the debate are without self-interest. For example, if alcoholism is not considered a disease, third party payments to physicians and hospitals for its treatment would cease.