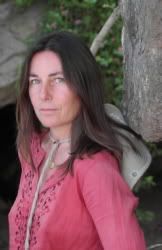 Left: Princess Alessandra Borghese on summer holiday at the Island of Panarea.
Right: serving the crippled who come to Lourdes to pray for healing.
Here's an interesting tidbit from
Whispers in the Loggia
. So many of our little girls want to be princesses, and look up to them when growing up. In America, I think our exposure to princesses has been very limited--mostly to Diana of Wales and some others in the British Royal Family as well as Grace Kelley.
Princess Alessandra
, a member of the Borghese noble family of Italy, is a part of the royal court of the Sovereign of the Vatican City State. How does this princess spend her time? Hmmm . . . sponsoring religious, artistic, and cultural events, speaking out, looking pretty, and charming philanthropists, engaging in good works, encouraging devotion to Our Lady and the ministry of Lourdes, taking holiday, serving the Church and the Holy Father, etc. Not a bad role model.
From her bio:
In 1990 she founded the Alessandra Borghese Culture Centre with which, over the years, she has organized very successful public events of a high standard in the art, cinema and music fields. At the same time, she worked on the restoration of a 17th Century family property near Montecatini Terme, transforming a farmhouse into a tourist centre. To promote the new complex, Alessandra Borghese organized two events called "Country art at the Medici farmhouse" (1995-1996). During the second edition, she set up an exhibition called "The Borghese family, patronage in 1996" working with major contemporary Italian figurative artists, followed by an international meeting on the theme of contemporary art patronage. She has also organized Eucharistic celebrations in the most famous Roman Basilicas, presided by Cardinals of the Clergy and accompanied by renowned international orchestras including the great Dresden Orchestra (2000), the Regensburg Choir (1999) and the Salzburg Chamber Orchestra (2001). Profits were devolved to humanitarian causes, including the poor in Rome and Afghan refugees. Alessandra has also raised funds for the Italian Cancer Research Association and for the Koscevo Hospital in Sarajevo through charity events. She was Roman Mayor Rutelli's Special Counsellor for Culture and Tourism (a non political, fiduciary appointment) during the 2000 Jubilee, as well as a member of the Agenzia della Moda Board of Directors.
Princess Ale with Papa Benny on the papal plane returning from World Youth Day in Cologne (with Angelo Cardinal Sodano, the Vatican Secretary of State and Dean of the College of Cardinals, looking from the next row)