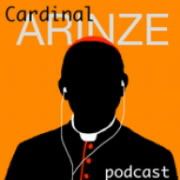 I have recently enjoyed listening to the
Cardinal Arinze Podcast
, produced by the
Apostolate for Family Consecration
. It is worth checking out. I love all the wonderful accents--the African Cardinal, the interviewer from Wisconsin, and the host from Belgium. You don't need to own an Ipod to listen to it. I download it to my computer and open up the file with RealPlayer.
Also worth listening to is
Ancient Faith Radio
from our friends in the Eastern Orthodox Church.