"Beats all you ever saw / been in trouble with the law / since they day they was born."
I can only imagine being the cop who pulled over this drunken driver, goes up to look in the car, only to find out that he's just nabbed one of the Duke boys!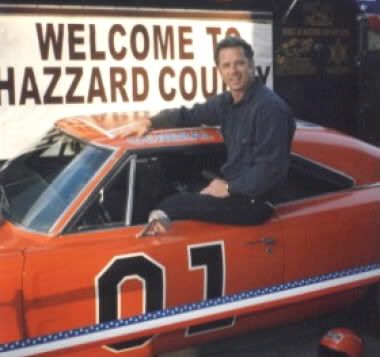 I bet he'd have gotten away if he had been driving the General.
Here's the story from the Associated Press:
'Dukes of Hazzard' Actor Wopat Charged
Friday March 17 11:52 AM ET
Tom Wopat, who played Luke Duke on the TV series "The Dukes of Hazzard," faces a drunken driving charge in northern New Jersey, authorities said Friday. Wopat was arrested in Ringwood and charged with driving while intoxicated and reckless driving, said Bill Maer, a spokesman for the Passaic County sheriff's department.
He was pulled from a Ford Bronco Wednesday night after hitting orange traffic cones and nearly striking a Ringwood police car sent to an accident, Maer said. Wopat, 54, of West Milford, was released into the custody of his girlfriend, Maer said.
The word on the street is that John Schneider slipped out the window of the car and is now hiding at the Boar's Nest.