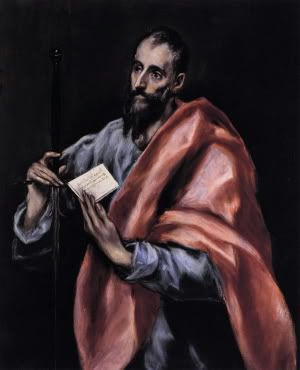 A painting of St Paul the Apostle by El Greco
If I'm not mistaken, one of today's daily office readings records the first excommunication. Interestingly, the cause was for immorality rather than for false doctrine.
1 Corinthians 5:1-8
"It is actually reported that there is sexual immorality among you, and of a kind that is not tolerated even among pagans, for a man has his father's wife. And you are arrogant! Ought you not rather to mourn? Let him who has done this be removed from among you. For though absent in body, I am present in spirit; and as if present, I have already pronounced judgment on the one who did such a thing. When you are assembled in the name of the Lord Jesus and my spirit is present, with the power of our Lord Jesus, you are to deliver this man to Satan for the destruction of the flesh, so that his spirit may be saved in the day of the Lord. Your boasting is not good. Do you not know that a little leaven leavens the whole lump? Cleanse out the old leaven
[*
a reference to the Jewish custom of removing all leaven from the house in preparation for the Passover
]
that you may be a new lump, as you really are unleavened. For Christ, our Passover lamb, has been sacrificed. Let us therefore celebrate the festival, not with the old leaven, the leaven of malice and evil, but with the unleavened bread of sincerity and truth."
The reason for taking such action seems to be for both protecting the community and to help the man in question gain a sense of the gravity of his sin in hopes that it will lead to his repentance and ultimate reconcilliation. Perhaps that did happen later. Although it is unclear if Paul is referring to the same individual or to another, his second letter to the Corinthian Church records St Paul granting the first
indulgence
[*
an "indulgence," from the word for kindness, is a shortening of the temporal punishment due to sin or a dispensation from a penance imposed by the Church
].
2 Corinthians 2:5-8
"Now if anyone has caused pain, he has caused it not to me, but in some measure--not to put it too severely--to all of you. For such a one, this punishment by the majority is enough, so you should rather turn to forgive and comfort him, or he may be overwhelmed by excessive sorrow. So I beg you to reaffirm your love for him. For this is why I wrote, that I might test you and know whether you are obedient in everything. Anyone whom you forgive, I also forgive. What I have forgiven, if I have forgiven anything, has been for your sake in the presence of Christ, so that we would not be outwitted by Satan; for we are not ignorant of his designs."