Jesus wanted to make sure that his ministry of healing and reconciliation would continue in the life of the Church after he ascended to heaven, so after his resurrection, he breathed on the apostles and said, "Receive the Holy Spirit: if you forgive the sins of any, they are forgiven; if you retain the sins of any, they are retained." [John 20:22-3]
Be mindful of sin—not the sin in your neighbor, but the sinfulness in yourself. Examine your conscience in God's light and see where you have gone astray. The Prayer Book tells us that before receiving Holy Communion, we should, "Examine your lives and conduct by the rule of God's commandments, that you may perceive wherein you have offended in what you have done or left undone, whether in thought, word, or deed." It also encourages you to, "go and open your grief to a discreet and understanding priest, and confess your sins, that you may receive the benefit of absolution, and spiritual counsel and advice; to the removal of scruple and doubt, the assurance of pardon, and the strengthening of your faith" [BCP, 317].
You might ask, "Isn't going to confession optional in the Anglican tradition?" And you would be right, it is optional. But is that asking the right question? After all, isn't coming to church optional? Isn't going to work optional? Isn't cleaning the house optional? Isn't bathing optional? If you have a heart attack, having bypass surgery is optional; you don't have to. Eating solid food day after day, year after year is optional; it is not required. We can see so clearly how these things may be optional, but are good. Why is it so difficult to address the need for reconciliation?
If we have been asking the wrong question about sacramental reconciliation, what should we be asking? Perhaps we should rather ask: Is it a part of God's will for my life? Ask, Is it pleasing to God? Is it good for my soul? Is it the right thing to do? Did Jesus leave this power to his Church for me?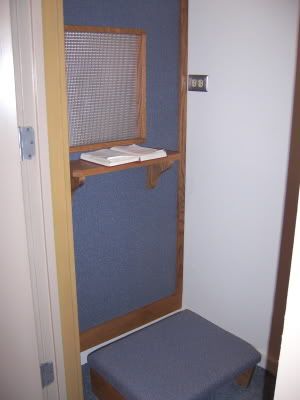 What keeps you from coming to confession? Fear? Shame?
The tragedy is, most of us are too ashamed to confess our sins, but apparently not too ashamed to commit them
. Jesus said, "Those who are ashamed of me and of my words in this sinful and adulterous generation, of them the Son of Man will also be ashamed when he comes in the glory of his Father with the holy angels" [Mark 8:38]. What a terrible thought, that Jesus would be ashamed to even know you, because you have not heeded his words!
Making your confession involves surrendering to God's will and God's mercy. Consider the way Abraham surrendered to God's will in today's reading. Isaac turned to his father and said, "The fire and the wood are here, but where is the lamb for the burnt offering?" Abraham—helpless and tormented, but trusting in God—simply said, "The Lord himself will provide the lamb for the sacrifice, my son." The profound truth of Abraham's statement would not be fully realized until the time of the New Testament, when we read that Jesus the Son of God was the offering that God himself provided to atone for our sins.
John the Baptist put it best when he said of Jesus at the Jordan river, "Behold the Lamb of God who takes away the sin of the world." Jesus is that lamb slain on the altar of the cross to atone for our sins. He did not mean for you to keep your sins to yourself. He meant for you to give them up entirely, to be washed clean in his precious Blood, poured out so that sins may be forgiven. That is God's will for your life, and for mine.
Sin grieves the heart of God. Should it not also grieve ours as well? May God give us the grace not only to recognize our sins, but also to mourn our sins and to repent of them. I call you again, in the name of the Church, to the observance of a holy Lent.
Let us pray. Almighty and most merciful Father, we have erred and strayed from thy ways like lost sheep, we have followed too much the devices and desires of our own hearts, we have offended against thy holy laws . . . but thou, O Lord, have mercy upon us. Spare thou, those who confess their faults; restore thou, those who are penitent. In the Name of Jesus Christ. Amen.