The message of the feast of the Assumption of St. Mary the Virgin is that Christ's empty tomb is the promise--even now being fulfilled among us--that all of us who have him as our Savior will also have empty tombs.
"The Almighty has done great things for me; and holy is his Name." --Mary of Nazareth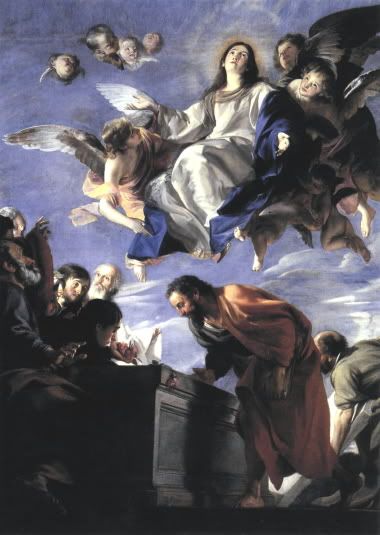 O God, who hast taken to thyself the blessed Virgin Mary, mother of thy incarnate Son: Grant that we, who have been redeemed by his blood, may share with her the glory of thine eternal kingdom; through the same thy Son Jesus Christ our Lord, who liveth and reigneth with thee, in the unity of the Holy Spirit, one God, now and for ever.
Amen.
For more on the commemoration, see Father Clifford Stevens' article
"The Assumption of Mary: A belief since apostolic times"
from the July-August 1996 issue of
Catholic Heritage
.