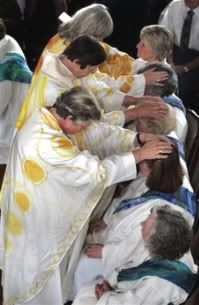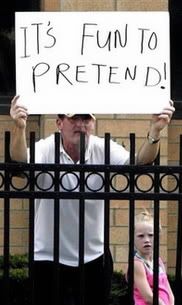 Eight women ordained to the priesthood by womenbishops (left).
One of the protesters along the river's shore in Pittsburgh (right).
In the Episcopal Church, it was the "
Philadelphia Eleven
"--a group of women who were illegally ordained on 29 July 1974 at the Church of the Advocate. On 31 July 2006, eight women were illegally ordained Roman Catholic priests while cruising Pittsburgh's three rivers. The difference in the consequences of these two actions is that the Episcopalian women of 1974 were inhibited (the ordinations were later "regularized in 1976), while the Roman Catholic women of 2006 have incurred automatic excommunication.
This is the fourth such Catholic group ordained worldwide since 2002, and the first in the United States. . . . Dagmar Celeste, a former first lady of Ohio who was among the group's first ordinands in 2002, said, "Today we give honor to our mother God . . . Just as the water broke in the wombs of our mother, so we open the waters of mother church."
Rocco Palmo noted the event
here
at Whispers in the Loggia. The report from Ann Rodgers in the Pittsburgh
Post-Gazette
(which includes a video report) is
here
. The website of Roman Catholic Womenpriests, the organization which is sponsoring the ordinations, is
here
. Also, Salon has a bit of the back story
here
.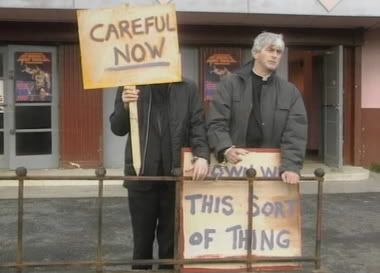 The fictional Fathers Ted Crilly and Dougal McGuire join the protest. Fr. Ted's partially obscured sign says, "Down with this sort of thing."