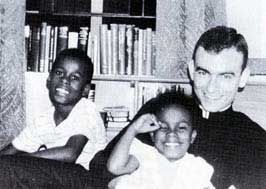 Jonathan Myrick Daniels has been held dear in the heart of Episcopal seminarians (particularly of the Anglo-Catholic stripe). He found faith at one of "our" parishes--the Church of the Advent in Boston. Then he decided to commit his life to the Lord in offering to serve in the priesthood. Then came his ministry project as a seminarian--his own martyrdom.
Daniels answered the call of Martin Luther King Jr. to come march in Alabama for civil rights in 1965. He returned to Selma to continue the work by helping assemble a list of federal, state, and local agencies that could provide assistance to those in need. He also tutored children, helped poor locals apply for aid, and worked to register voters. Daniels also devoted himself to integrating the local Episcopal parish, taking groups of young blacks to the church, where they were usually ignored or mistreated.
He was arrested on August 13th in Hayneville and held for six days. After being released without explanation, Daniels when with some companions get a cold soft drink at Varner's Cash Store (one of the few which served blacks). They were met on the front steps by an unemployed highway construction worker, Tom Coleman, who was wielding a shotgun. The man threatened the group, and finally leveled his gun at a sixteen-year-old girl named Ruby Sales. Daniels pushed Sales out of the way and caught the full blast of the gun. He was killed instantly.
Sales was so traumatized by Daniels' shooting that she was unable to properly speak for the next seven months. Despite death threats made to her and her family, she resolved to testify at Tom Coleman's trial. Sadly, Coleman was acquitted by a jury of twelve white men, on the grounds of "self-defense" because he said he saw Daniels with a knife. The murder of an educated, white, priest-in-training who was defending an unarmed teenage girl helped shock the Episcopal Church into facing the reality of racial inequality that it had tacitly participated in and continued. Daniels' death helped put civil rights on the map as a goal for the church as a whole, and reminded many upperclass white Episcopalians that this struggle was not nearly so distant as they had imagined it to be.
The environment in which Daniels surrendered his life sounds like another world to me. I have never seen a water fountain that said "White Only" or "Colored Only." Daniels is a reminder to me that things were once very different--but that even extreme change is possible through the force of moral courage. It reminds me that doing the right thing can be very costly. It reminds me that it is when we are at our weakest, that we can most effective draw upon the Lord's strength.
Daniels' papers reveal his strong personal faith and his sense of mission. He was devoted to Our Lady, who surely prayed for him in the hour of his death. Referring to singing the Magnificat at Evensong, he once wrote,
"I knew [then] that I must go to Selma. The Virgin's song was to grow more and more dear to me in the weeks ahead."
At another time, shortly before his death, he wrote,
"The faith with which I went to Selma has not changed; it has grown. I lost fear in the black belt when I began to know in my bones and sinews that I had been truly baptized into the Lord's death and Resurrection, that in the only sense that really matters I am already dead, and my life is hid with Christ in God."
When he heard of the tragedy, Martin Luther King, Jr. said,
"One of the most heroic Christian deeds of which I have heard in my entire ministry was performed by Jonathan Daniels. Certainly there are no incidents more beautiful in the annals of church history, and though we are grieved at this time, our grief should give way to a sense of Christian honor and nobility."